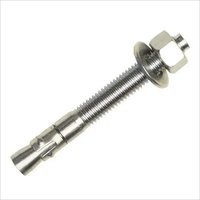 SS Wedge Anchor Fastener
Price And Quantity
Product Specifications
Product Description
Wedge anchors are to be installed into solid concrete only and should not be used in other base materials such as brick or CMU. Wedge anchors are designed to go into a concrete hole permanently.
A very simple mechanism allows excellent consistent holding values in concrete to be achieved. Once inserted into the hole in the concrete, the nut is turned clockwise. This action pulls the anchor body up, which slides the expansion clip down the cone-shaped working end of the wedge anchor. The clip is then expanded and wedges between the anchor body and the concrete.
Parts of a Wedge Anchor:
Anchor Body is made from carbon steel or stainless steel; it is threaded on one end for a portion of its length while the diameter is necked down and cone shaped tapering up to the nominal diameter at its other end.
Expansion Clip is permanently attached to the anchor body around the necked down area of the anchor body.
Nut is a standard national coarse hex nut; carbon steel and zinc plated or stainless steel.
Washer is an SAE standard washer; carbon steel and zinc plated or stainless steel.
Drilling the Hole:
To install a wedge anchor in concrete, a hole must be drilled into the concrete. The hole must be drilled using a carbide bit in a hammer drill in the hammer and rotation mode to ensure proper hole size and consistency. Drilling a hole in concrete with a standard rotation drill may create a hole that is not suitable and may not meet the tolerance requirements of the wedge anchor. The tolerance between the hole size and wedge anchor size is critical for the wedge anchor to achieve its holding values.
Hole diameter for wedge anchors equals the wedge anchor diameter being installed; a 3/4 wedge anchor requires a 3/4 hole.
Carbide tipped bit must meet ANSI standard to ensure proper tolerance between the hole diameter and wedge anchor.
The hole must be cleaned out to ensure that the wedge anchor will be properly installed.
Make sure that the hole is a minimum of 1/2 deeper than the wedge anchor will penetrate the concrete. This extra space will ensure that the wedge anchor does not bottom out in the hole and allows space for any dust to fall into that is created during the installation of the wedge anchor.
Embedment Depth
Each diameter of wedge anchor has a minimum diameter that the anchor must be installed at for the anchor to achieve minimum holding values. The minimum holding values for each diameter can be found at:
Installation:
Using a carbide drill bit that meets ANSI standards, drill the hole with a hammer drill. The diameter of the hole being drilled should equal the diameter of wedge anchor being installed.
With compressed air, vacuum and wire brush, clean the hole of all dust and debris.
Thread nut onto the threaded end of wedge anchor and insert into the hole clipped end first.
Strike the nutted end of the wedge anchor with a hammer until 5 to 6 threads are below either the surface of the concrete or the surface of the material being fastened.
Finger tighten the nut and then. with a wrench. turn the nut clockwise until snug. The specific torque values for the diameter of wedge anchor being can be found at:
Contact Us
Plot No.256, Near Primary School, Village Hiran Kudna, New Delhi, Delhi, 110041, India
Phone :+918068343026